Dentist - Portage, IN
Christine Mousa, DMD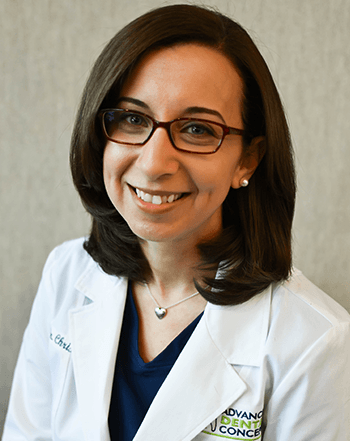 Dr. Christine greatly enjoys getting to know her patients at Advanced Dental Concepts and helping them achieve their personal smile goals. She can't wait to meet you and your family here in Portage, IN!
Where Did You Study Dentistry?
Dr. Christine was originally born in Egypt. She attended dental school there and specialized in pediatric dentistry before practicing for three years. Then, she chose to come to the United States and achieved her Doctor of Dental Medicine at UIC College of Dentistry in Chicago.
What is Your Favorite Part of Being a Dentist?
Dr. Christine is fully dedicated to providing comprehensive, high-quality treatment options for children and adults alike. She is also a certified Invisalign provider and extremely proficient in all facets of general dental care.
Outside of the Dental Office, What Do You Like to Do?
When she isn't busy at the office, Dr. Christine spends quality time with her husband Joseph and their two children Hannah and Joshua. Her hobbies include cooking and creating oil paintings.