Invisalign® Clear Braces – Portage, IN
Straighten Your Teeth Without Metal Brackets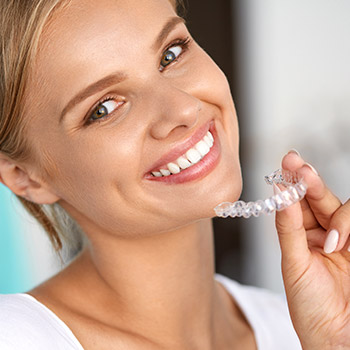 If your teeth are noticeably crooked or have large gaps in between them, the right orthodontic treatment can work wonders. However, many older patients struggle with the thought of wearing traditional braces for months or years on end because of their professional images. Thankfully, our dentists here at Advanced Dental Concepts offer a sophisticated alternative – Invisalign® Clear Braces. You can discover if you're a viable candidate for Invisalign during an initial consultation, so don't hesitate to contact us in Portage, IN to get started.
---
The Invisalign Treatment Process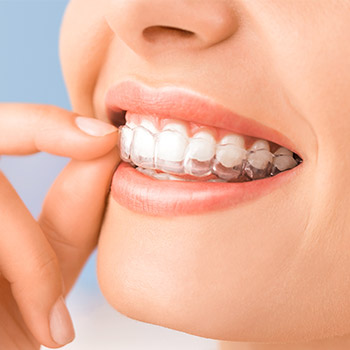 Instead of brackets and wires, patients will wear a series of clear, plastic aligners. Each aligner is designed to represent a different stage of your smile's gradual improvement, and you will wear them each for a certain period of time (usually a couple of weeks) before switching to the next one in the provided set. You should also plan to attend a checkup with our team every six weeks on average so that we can gauge your overall process and address any concerns as soon as they arise.
---
Indications for Invisalign
If you think Invisalign is only used to fix crooked teeth, guess again! Invisalign is a versatile treatment option that can also help patients battling overcrowding, gaps between teeth, and even bite alignment.
Crowded Teeth
If your teeth are too close together, it can be difficult trying to clean between them. This increases your risk of developing gum disease and tooth decay. Invisalign can shift your teeth to create appropriate space, so your teeth will align correctly.
Learn More About Crowded Teeth
Spaces Between Teeth
Don't enjoy looking at that giant space between your teeth? Not to worry! Invisalign aligners can bring your teeth closer together, closing the gap and putting them into proper alignment.
Learn More About Closing Spaces Between Teeth
Bite Alignment
Jaw pain and teeth grinding can usually be linked back to bite alignment issues. Both can be painful and cause serious problems for your oral health. Luckily, no matter what type of bite problem you have (overbite, underbite or crossbite), Invisalign can correct it.
---
What are the Benefits of Invisalign Treatment?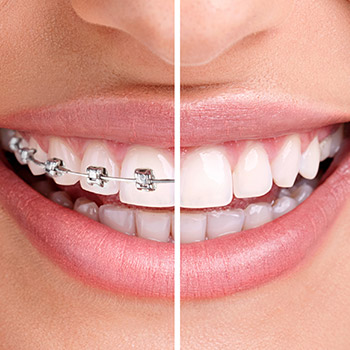 Invisalign clear aligners are removable, which means that patients can easily take them out whenever they need to. This means that you can brush and floss like normal at home, and there are no inconvenient dietary restrictions to worry about either.
Like the name implies, Invisalign aligners are extremely subtle when placed over your smile. This means that most people you meet in a day will simply see YOU and not your orthodontic treatment.
If you have an important event coming up or a photo opportunity where you'd like to look your absolute best, it's perfectly fine to remove the Invisalign aligner for an hour or so – just remember to put it back in afterwards!
While every case of Invisalign treatment is unique, patients can expect to be finished with their treatment plan in roughly 8-18 months on average. When compared to traditional braces, which can often require upwards of two years, this is a significant improvement.
Invisalign FAQs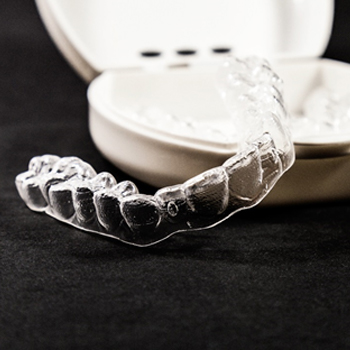 Invisalign in Portage can be the discreet solution you need to get the straight smile you've always wanted. Although you've heard about their benefits, we know you still have several questions before you're ready to decide. We take the time to explain the process and address your concerns during your initial consultation. While you wait for your appointment, has are a few answers to some of the top questions we hear.
How many aligners will I need?
Unfortunately, there isn't an easy answer as to the number of aligners you'll need without first having a consultation. Since each case is different, the amount you need varies depending on the severity of your bite and alignment issues.
We'll take X-rays, impressions, and pictures to create a 3D model of your mouth. This allows us to map the movement of your teeth in gradual steps. We then transfer the information to a specific number of aligners to reposition your teeth over time. On average, you'll wear each aligner for about 1 week before switching to the next.
How long will the treatment take?
The average patient takes about 12 months to finish their series of aligners, but there are several issues that can impact how long your treatment will take. If you have complex alignment and bite concerns, you can expect your treatment to take longer than a person who only needs to make minor modifications. In addition, not complying with your plan can add unnecessary delays, so it's best to wear your aligners as recommended by your dentist.
Can I only get Invisalign on the top?
The positioning of your teeth should create a harmonious balance between your upper and lower jaw. If you only align your top teeth, it could make them sit improperly on your bottom teeth. Not only can this make it difficult to chew or close your mouth, but it can also cause uneven wear on your enamel and increase your risk of a TMJ disorder. As a result, we recommend you treat both the top and bottom teeth at the same time.
Will I need a retainer?
After you finish your series of aligners, you will need a retainer to prevent your teeth from moving back into their previous positions. Initially, your cosmetic dentist in Portage will recommend you always wear your retainer. Eventually, you will only need it at night.
How much does Invisalign cost?
Many people believe Invisalign is too expensive for the average person, but it's actually about the same price as metal braces. There isn't a set cost for the treatment because the amount you pay is determined by your individual plan. There are several factors that influence the cost, such as the number of aligners you need. During your initial consultation, we'll provide you with an exact estimate and discuss your payment options.
We will work with your insurance company to lower the amount you need to pay out-of-pocket. We accept a variety of payment options to cover any remaining balance, such as using third-party financing with CareCredit.
If you're ready to learn more about Invisalign or you're ready to schedule your consultation, contact our office today.