Dental Implants – Portage, IN
A Modern, Lasting Solution to Tooth Loss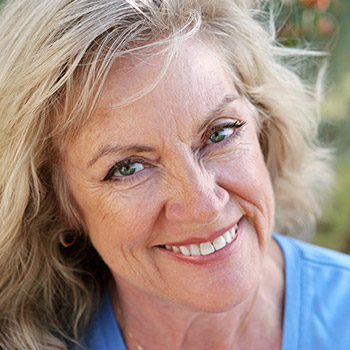 Traditionally, tooth replacement options only bothered with rebuilding the structure that was visible above the gum tissue. While this method is sufficient for restoring cosmetic value and biting strength, it couldn't be ignored that half of the original tooth was now missing. Without a root in place, the patient's jawbone is no longer stimulated and can start to deteriorate over time. Thankfully, dental implants are a state-of-the-art method for replacing missing teeth comprehensively, starting from the root and building up. If you would like to learn more about this revolutionary service or schedule a dental implant consultation here in Portage, contact Advanced Dental Concepts today! Our team would love to hear from you.
---
Are You Missing One Tooth?
Rebuilding a tooth with a new dental implant is carried out in two distinct phases. First, the implant itself will need to be surgically inserted into the gum and jawbone. This is done by creating a minor incision in the tissue and placing the implant in the ideal position to support the eventual prosthetic. The surgical site will also be covered with a protective cap to allow for proper healing and give the natural tissue a chance to gradually bond with the biocompatible implant. This bonding process will typically require anywhere from 3-6 months.
Once the patient has fully healed from their dental implant placement, they will return to the office so that we can design and place an all-ceramic dental crown over it.
---
Are You Missing Multiple Teeth?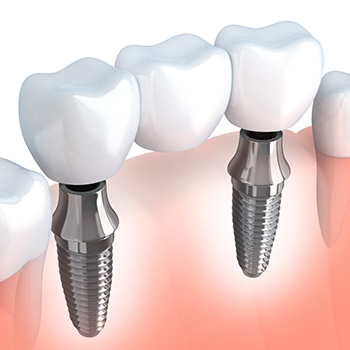 If you are missing more than one tooth that used to appear together in a row, an implant-retained dental bridge may be the right option for rebuilding this lost structure beautifully. We will place a single implant on either side of the affected gap. These implants will work as "anchors" that help support the bridge on both sides, resulting in a sturdy and reliable fit.
---
Are You Missing All of Your Teeth?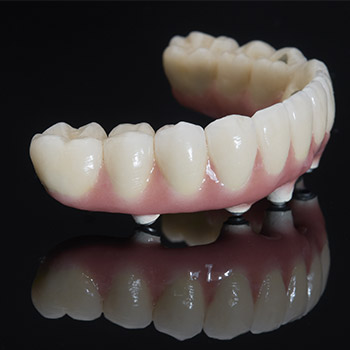 Contrary to popular belief, most patients who have experienced severe tooth loss can successfully replenish their smile with dental implants. It's simple – instead of relying on a traditional partial or full denture, we can outfit these prosthetics with strategic dental implants for improved function, fit, and health. Because we aren't replacing each individual tooth with its own implant, this method is also more cost-effective too. Just imagine – you can finally eat all your favorite foods, speak with confidence in public, and even smile without any worries regarding "slippage."
---
How Dental Implants Work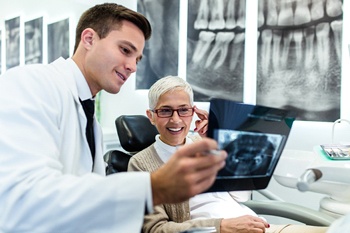 Tooth replacement can sound like a complicated process at first, especially if you are just now learning about dental implant treatment. However, this procedure has been around for many decades now and is quickly becoming the gold-standard for tooth replacement. Why? It's because of the multiple phases and comprehensive planning that goes into it! To learn more about it step-by-step, take a look at our dedicated page and feel free to call us if you have additional questions.
---
Cost of Dental Implants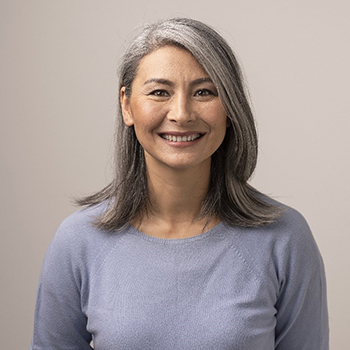 Dental implants often come with a higher price tag than other procedures, however their unique benefits make them well worth it. You may be wondering about your specific cost as you consider this option. It's important to understand that no two smiles are the same, which is why the price can vary. That said, we put together a list of some of the most significant factors that impact cost of treatment. Keep reading to satisfy your curiosity.
---
Dental Implant FAQs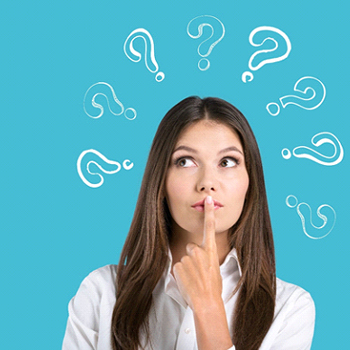 Dental implants in Portage are the gold standard of tooth replacement, and perhaps you are interested in receiving them to replace your lost dentition. Still, you probably have questions about this treatment. Below, we have compiled some FAQs about dental implants, along with their answers. If you do not find the information you were hoping for, you are welcome to give us a call or visit us in person so we can personally satisfy your curiosity.
How Long Does the Dental Implant Process Take?
From beginning to end, the dental implants process may take several months to a year or longer. That is because the treatment takes place across several different procedures, and your mouth and body will need time to recovery after each phase. For example, after your implants are placed, it may take a few months for them to properly fuse with the surrounding bone tissue.
How Long Do Dental Implants Last?
With proper care, dental implants have the potential to last a lifetime. The restorations on top of them can also last for many years — perhaps a decade or longer. To help your dental implants and their restorations thrive for as long as possible, you must stick to a good oral hygiene routine, visit your dentist in Portage for regular checkups, and take care to avoid situations that might damage your new teeth.
Do Dental Implants Ever Fail?
Dental implants have over a 95 percent success rate. However, in some cases, complications arise that lead to implant failure. Rarely, an infection of the tissue around an implant can compromise its base of support. In other cases, the implant never bonds properly with the surrounding bone. You can reduce your chances of implant failure by caring well for your implants and avoiding the use of any tobacco products.
What Help Can I Get to Afford Dental Implants?
Dental insurance is sometimes willing to cover a portion of the cost of implants. If it does not cover the implants themselves, it might cover the restorations or other portions of the treatment. Most patients qualify for low-interest financing through CareCredit. Our practice even offers a FREE dental implant consultation and an in-house savings plan for patients without insurance.
Dental implants tend to have a higher upfront cost than other tooth replacement options. However, they are worth it because of the remarkable longevity and stability that they offer.
Am I a Candidate for Dental Implants?
Ideal candidates for dental implants:
Have one or more missing teeth
Have adequate bone volume and bone height to support dental implants
Do not smoke
Are free of gum disease
Are in fair overall health
Have excellent oral hygiene habits
Even if you do not currently qualify for dental implants, you may qualify in the future after some preparatory dental treatment. For example, you may need a bone graft so your jaw can support the implants. During your consultation, we will frankly tell you whether you are currently a candidate and what you can expect throughout your tooth replacement journey.
---