Preventive Dentistry - Portage, IN
Dedicated to Helping You Smile Brightly for Life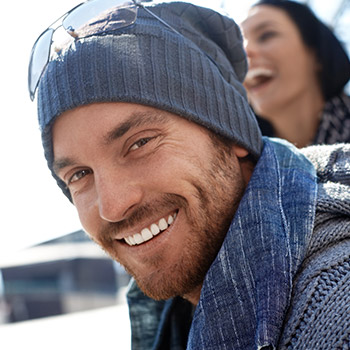 At Advanced Dental Concepts, we help our patients from Portage, IN and surrounding areas develop the ideal foundation for a healthy, happy smile. Our preventive services are designed to not only treat dental problems at their earliest stages, but also help patients avoid them in the first place. If it has been more than six months since you or your child's checkup, don't hesitate to contact us for an appointment. Our doctors can't wait to treat the whole family in our comfortable, state-of-the-art practice!
---
Checkups & Cleanings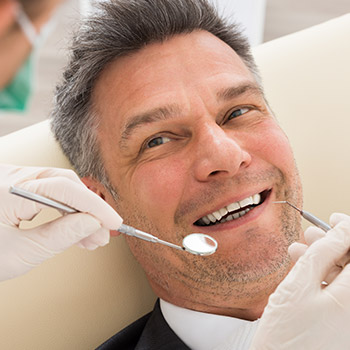 We strongly recommend that patients of all ages attend at least two checkups and cleanings every calendar year, as this is an essential part of ongoing dental maintenance. Your dental examination will be extremely thorough, involving the use of a visual assessment, digital X-rays, and detailed intraoral photography to form a comprehensive understanding of your current smile and screen for common problems like bruxism (teeth grinding), tooth decay, gum disease, TMJ disorder, oral cancer, and more.
Then, one of our skilled hygienists will perform a professional cleaning. Any accumulations of decay-causing plaque and tartar will be removed with special instruments. Finally, Dr. Hayes or Dr. Christine will sit down with the patient and review all the findings with them in order to develop a customized plan of action.
---
Fluoride Treatment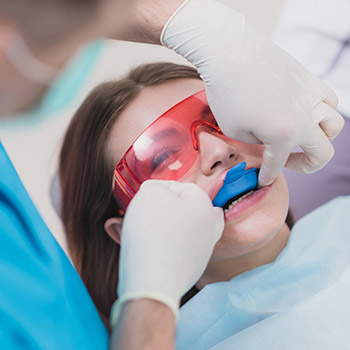 Fluoride is a natural mineral that can help patients develop stronger, more durable tooth enamel that's less susceptible to decay over time. It accomplishes this by being present in several food items, supplements, and even most municipal water supplies that young patients ingest. Once the adult teeth have successfully erupted from the gums, our dentists may recommend the application of topical fluoride for additional boosts of health, both at home through the use of certain oral hygiene products (like toothpastes and mouthwashes) and here in our office. These professional applications can be very valuable to children who are still practicing their oral hygiene skills and adults who are overly susceptible to decay.
---
Nightguards for TMJ & Bruxism Therapy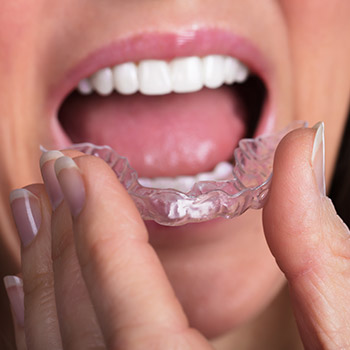 Habitual teeth grinding and cleaning (also known as bruxism) is a common "bad habit" that affects patients of all ages – it can even encourage the development of TMJ dysfunction over time. Thankfully, both of these painful oral health problems can be alleviated through the consistent use of a nightguard. This type of oral appliance is customized to fit the patient's unique mouth comfortably, and you will still be capable of speaking, breathing, and drinking water while wearing it.
Nightguards have two major benefits. They help to reduce unconscious jaw motion as patients sleep, preventing excessive strain. They also create a sturdy barrier between the teeth, which minimizes the damage caused by clenching and grinding.
---
Oral Cancer Screenings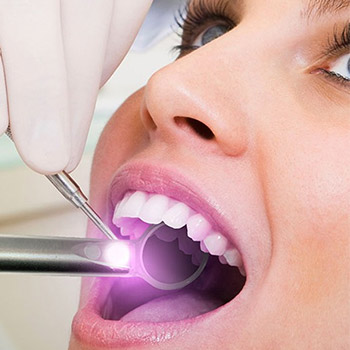 It's commonly assumed that only people who regularly smoke and use tobacco can fall victim to oral cancer. While these are definite risk factors, roughly 25% of cases actually manifest in patients who do NOT fit into these categories. That's why our dentists provide dedicated oral cancer screenings during regular checkups. We will take a close look at the inner oral tissue and the facial structures, pinpointing any strange sores, discoloration, or other symptoms that could indicate cancerous abnormalities.
---
Conservative Micro Dentistry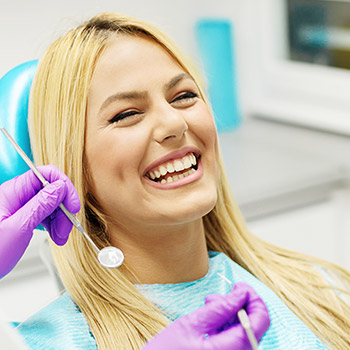 Our team's goal is always to help patients maintain as much natural, healthy dental structure as we possibly can, and we accomplish this through conservative micro dentistry. For instance, instead of relying on traditional dental drills, our air abrasion technology can eliminate the necessary tooth enamel for certain restorative treatments without causing unnecessary removal. Additionally, composite resin fillings help repair the damage done by cavities as minimally as possible when compared to traditional amalgam.
---
Children's Dentistry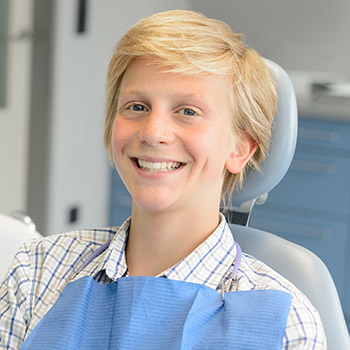 At Advanced Dental Concepts, we're happy to treat patients of all ages – and that includes the youngest members of your family! Our team has plenty of experience with caring for children and their unique dental needs, and can also accommodate any behavioral quirks with flying colors. For added convenience, we can schedule block appointments for the entire family on one day, saving valuable time and helping everyone get back to their normal routine quickly.
---
Digital X-Rays & Intraoral Cameras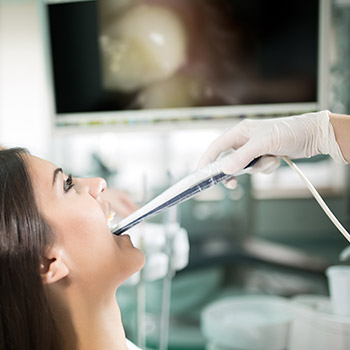 In order to help our patients feel like full partners in the oral healthcare process, we've invested in diagnostic technology like digital X-rays and intraoral photography. Both of these modern tools capture high-resolution images of the patient's oral structures, which we can display on a chairside computer monitor and use as visual aids. As a result, it will be much easier to understand any oral health concerns and the benefits of any recommended treatment plans. We can even manipulate these photos for further clarity by magnifying them, rotating them, or color-coding them.