Process of Invisalign – Portage, IN
Achieve a Straighter Smile Without Metal Braces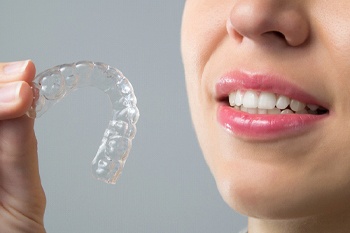 If you're considering Invisalign in Portage as the method of treatment you plan to pursue to straighten your teeth or realign your bite, you'll probably be interested to learn more about the process. At Advanced Dental Concepts, our trusted professionals will be happy to sit down and answer any questions you have about your individual plan and what you can expect to happen throughout the duration of your treatment. In fact, an initial consultation is actually required, so if you're ready to take the next step to achieve a straighter smile without metal braces, give us a call today.
---
Schedule a Consultation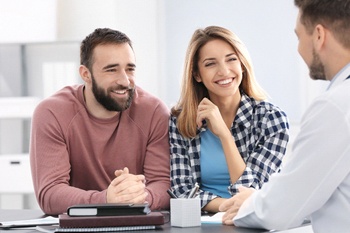 The first step is to schedule a consultation with a cosmetic dentist in Portage. The professionals at Advanced Dental Concepts will thoroughly examine your smile, taking notes of any problem areas they detect and ways in which Invisalign can help. Whether it is overcrowding, gapped teeth, crooked teeth, or a problem with your bite, our dentists will compile the information gathered through a visual exam and X-rays to determine if you are a qualified candidate for Invisalign.
Good oral and overall health
Commitment to wearing your aligners for successful treatment
Your age
The severity of your individual dental problem (some issues may have more success with traditional braces)
---
Capture Impressions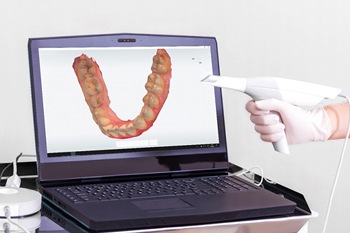 Following your initial consultation, our dentists will capture impressions of your smile. This will allow them to show you a step-by-step process of your smile's sequence while be treated with Invisalign. It will also serve as a blueprint for the dental lab technicians who will work to create your customized aligners.
---
Getting Fitted for Treatment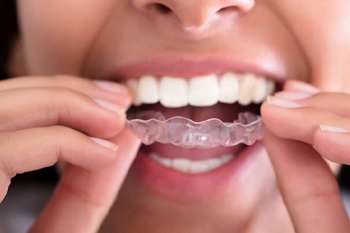 Once your clear aligners are ready, they will be sent to our office where you will return to have your fitting. The trays will come as a set, so you can take them home and have them ready when it is time to switch out your current aligners for the next in the series.
During your fitting, our dentists will make sure everything fits correctly and comfortably. One of the great benefits of this type of treatment is the fact there is no irritation to the soft tissues of your mouth (i.e. cheeks, lips, gums), and it's customized to your needs.
Each time you switch out your aligners, you can expect some mild discomfort, as your teeth are gently shifting in the right direction; however, an over-the-counter pain reliever can help to alleviate the pain.
Throughout your treatment, which, on average, can last anywhere between 8-18 months, you will be expected to maintain regular appointments with our dentists. The timing of these appointments will be based on your needs and progress, but instead of having a wire tightened like you would if you had traditional braces, these visits will be quick and painless, only allowing the dentist to check the progress of your smile and ensure there are no issues along the way.