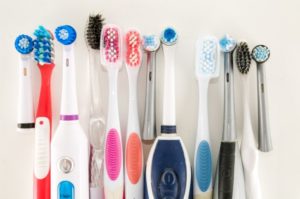 When you walk down your oral hygiene aisle at your local department store, do you become overwhelmed by the sheer number of toothbrushes that you have to choose from? Choosing the best toothbrush for your needs is important, and unfortunately, many people don't know what qualities make this vital oral hygiene tool "good". Read on to learn about some of the most popular types of brushes, and which one could be best suited for your unique oral hygiene needs.
Deep Cleaning Brushes For Gum Disease
If you have gums that are bleeding, inflamed, and irritated, it could be a sign that you're either brushing way too hard, or you're experiencing the early effects of gum disease. Either way, you need to change up your toothbrush. Whether you've been diagnosed with gingivitis or advanced periodontitis, you're likely already experiencing bone loss between and around your teeth. A specially designed toothbrush for people who have gum disease, like the GUM Technique Deep Clean Toothbrush, has unique features like a handle that helps you hold the brush at a 45-degree angle. This allows you to reach below the gumline and minimize plaque buildup in gum pockets.
Special Toothbrushes For Orthodontic Needs
If you wear braces, then you know just how hard it is to clean between and around the brackets and wires that crowd your mouth. Fortunately, there are specially designed toothbrushes out there to make the job easier! The Oral-B Ortho Soft Toothbrush and the GUM Sunstar Orthodontic Kit are both effective at cleaning plaque and tartar from small, hard-to-reach places.
Electric Toothbrushes
A long-running debate has been whether electric toothbrushes are better than manual ones. The answer is in your brushing technique. If you have a difficult time reaching a 45-degree angle or just want a more thorough clean, electric toothbrushes are highly effective and at removing plaque. They're also great for people who have limited mobility and many of them offer built-in two-minute timers. Some of the highest-rated electric toothbrushes include Philips Sonicare DiamondClean, Rotadent Contour, Oral-B Genius X, and the Waterpik Electric Toothbrush & Water Flosser Combo.
Which Toothbrush Is Best For You?
If you have special needs that should be met, such as sensitive teeth, limited mobility, or gum disease, then the best way to choose the ideal toothbrush for you is to speak with your dentist in Portage at your next checkup and cleaning. With their input and knowing what you do now about the three most popular types of toothbrushes, you'll have an easier time navigating the oral hygiene aisle at your department store. You'll also be able to enjoy a more thorough and refreshing brush every morning and evening!
About the Author
Dr. Lauren Hanson enjoys getting to know each of her patients and helping entire families keep their smiles healthy. She takes pride in providing honest and compassionate dental care that exceeds her patients' expectations every time they visit. She's also dedicated to providing her patients with the knowledge and skills necessary to help maintain and care for their smile at home, so they can avoid oral health problems like cavities and gum disease. For questions or to schedule a checkup and cleaning, visit Advanced Dental Concepts' website or call 219-763-6878.