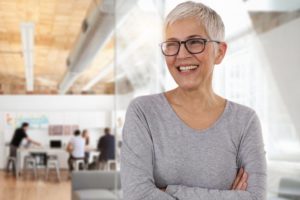 In the past thirty years or so, dental implants have exploded in popularity. Even though millions of Americans have replaced one or more missing teeth with this revolutionary treatment, there is still a lot misinformation out there. To help give you a better idea of how dental implants in Portage work and how they can benefit you, here are five interesting facts about them that you might not know.
1. Dental Implants Have a 95% Success Rate
Because dental implants are surgically inserted into your jawbone, they have the highest success rate out of all tooth replacement options. As long as you have good oral and general health, and you're committed to dental hygiene, your implants are likely to last for several decades.
2. You Can Recover 70% or More of Your Chewing Ability
A traditional denture typically only restores up to 30% of your original ability to bite and chew. By contrast, implants can give you 70% or even more of your biting force. Not only are they sturdy enough to stand up to practically any food, but they also don't create chewing problems by shifting or coming loose.
3. Dental Implants Can Boost Your Self-Confidence
Conventional dentures are associated with frailty and old age, but dental implants are designed to make you look and feel as healthy and youthful as possible. Once the posts have integrated with your jawbone, your dentist will attach a custom-made restoration on top of them. Depending on how many teeth you're replacing, this can be a crown, bridge, or denture. Your restoration will be designed to mimic the set of pearly whites you were born with and look completely natural in your smile.
4. You Won't Get Cavities in Your Dental Implants
Since dental implants are made of titanium and porcelain, they're impervious to tooth decay. However, your remaining teeth can still develop cavities. Additionally, gum infections can cause implant failure.
To prevent this, care for your implants with daily brushing, flossing, and rinsing with antibacterial mouthwash. Also, visit your dentist at least twice a year for a routine checkup.
5. Dental Implants Can Be Relatively Inexpensive
While dental implants sometimes cost more initially than a traditional bridge or denture, they can actually save you lots of money in the long run by not requiring repairs or replacements every few years. Instead, you pay for one solution that can last a lifetime. Not only do implants last longer, but they provide a more stable and aesthetically pleasing solution.
If you're interested in learning more about how dental implants in Portage can revitalize your smile, schedule a consultation with your dentist today.
About the Practice
At Advanced Dental Concepts, our two skilled dentists strive to make patients of all ages feel comfortable. Dr. Danny Hayes and Dr. Lauren Hansen make each patient feel understood when it comes to their needs and concerns. They're able to provide a variety of services in-house, including dental implant restoration. To learn whether implants are right for you, contact us at 219-763-6878.