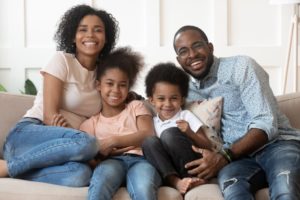 Are you feeling overwhelmed trying to juggle all of your loved ones' oral healthcare needs? It can be difficult to remember who needs which treatment at what time when everyone visits a different dentist. If this sounds familiar, it's time to switch to a Portage family dentist! When everyone's unique dental needs are cared for by the same friendly, experienced professional, keeping your loved ones' smiles healthy is a breeze. Here are five great benefits you can enjoy when you switch to a family dentist.
1.) Convenient Scheduling
Instead of driving all over town, you can save time and money by consolidating your family's oral healthcare. Not only does this make scheduling visits easier, but you can even make everyone's appointments on the same day for maximized convenience.
2.) Get Care When Your Family Needs It
Family dentists know how frustrating it can be for you to take time off of work and school to care for your smile. That's why they offer evening and Saturday appointments so achieving optimal oral health can be as easy and pleasant as possible.
3.) Treatments for Smiles of All Ages
Is it time for your child's first dental checkup? Are your parents interested in dentures or dental implants? A family dentist is your one-stop-shop for caring for smiles at every stage of life. Whether your teen needs Invisalign, your child has dental anxiety, your spouse snores and needs sleep apnea therapy, or you want to improve your smile with cosmetic dentistry, everything you need is under one roof.
4.) Identify Easily Overlooked Hereditary Issues
When the same dentist is caring for your entire family, they have a unique opportunity to detect patterns that would otherwise go unnoticed. They may be able to identify hereditary issues or risk factors, then provide personalized preventive care.
5.) Know Where to Go in a Dental Emergency
Dental emergencies are often sudden and alarming, so it's important to have a trusted dentist you can turn to beforehand. Family dentists are well-equipped to handle knocked-out, broken, or painful teeth, relieve pain quickly, and get your family back to enjoying their happy, healthy smiles. What's more, visiting your familiar family dentist can take a lot of stress out of these scary situations.
Keeping your family's smiles healthy shouldn't be complicated! Set your loved ones up for a lifetime of great oral health by switching to a family dentist today!
About the Practice
Dr. Lauren Hansen and Dr. Danny Hayes of Advanced Dental Concepts are committed to helping the families of Portage and the surrounding communities achieve optimal oral health. With excellent customer service, one-on-one attention, and a dental team who truly cares, they go above and beyond to make every appointment as pleasant as possible. They'll always take the time to listen to your concerns and fully explain all your options for treatment. To learn more, they can be contacted via their website or at (219) 763-6878.