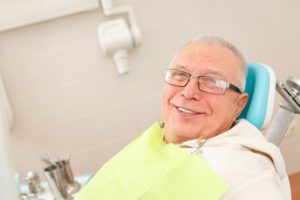 Dental implants in Portage offer a host of benefits, one of them being their versatility. No matter how many missing teeth you have, there is a suitable option. As you read further, learn about the 3 different types of implant restorations that can be used to restore your smile's full functionality and attractiveness.
How Many Teeth Do You Have Missing?
The dental implant process begins with a dentist performing a careful assessment to determine the amount of healthy jawbone that remains and how many teeth you have missing. The latter will factor greatly into the type of implant restoration you receive.
Single Tooth Dental Implant
Even missing one tooth can eventually cause problems, as the surrounding teeth can begin to shift. This can increase the susceptibility to infection and cause bite issues. By receiving a surgically inserted titanium implant, abutment and porcelain crown, you'll regain the look and functionality that's been missing.
Implant-Retained Bridge
The traditional way to replace two to three missing teeth in a row is with a fixed bridge, which consists of a series of crowns that are affixed to a single fixture. Held in place by being bonded to the surrounding dental crowns, it can be subject to shifting and limited functionality.
As a more durable and reliable option, one to two dental implants and abutments can be placed and used to support a restoration that securely attaches. By being fastened in place, the implant-supported bridge offers greater chewing capacity and a more natural looking appearance.
Implant-Retained Denture
In times past, above-gum dentures have been the main way to replace a single arch or full set of teeth. While they certainly serve the purpose of restoring a measure of functionality, traditional dentures leave much to be desired.
For starters, they typically only restore around 25% of the original chewing power. Then there is the slipping and poor fit that many patients experience as time goes by.
Thankfully, you can see improvements in all areas with an implant denture. By attaching beneath the gum line, it provides a more stable fit, up to 75% of the natural chewing capacity and a smile that looks like you were born with it.
What's Next?
If you're tired of living without a full set of teeth, then time is of the essence to make a change. That's because the longer you're without all your teeth, there is a greater chance of jawbone loss, which may require a complicated bone grafting procedure to buildup the area to accommodate an implant.
There's no denying the fact that life is tough when you have teeth missing. The good news is that help is available in the form of 3 different types of dental implants. By taking action now, you can soon regain the life you once had!
About the Author
Dr. Danny Hayes earned his dental degree from Temple University School of Dentistry. Throughout a career that has spanned well over a decade, he has remained committed to staying abreast of the latest changes and expansions in the dental world by completing several hours of continuing education courses. Additionally, Dr. Hayes maintains professional affiliation with the American Academy of Implant Dentistry. He replaces missing teeth with dental implants at Advanced Dental Concepts, and he can be reached for more information or to schedule a visit through his website.