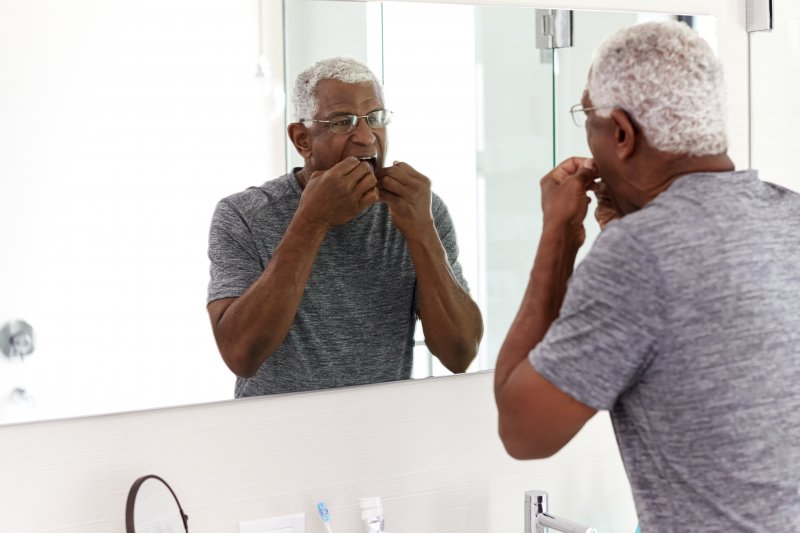 Do you find yourself promising the dentist that you'll floss more, only to be told at your next checkup that the only thing you need to do is floss more? If so, you may have taken it upon yourself to make an effort to really try this time, even so far as to make it your new year's resolution. However, if you find yourself hitting a wall and falling out of the habit, a dentist in Portage encourages you to ask the following questions.
What is Stopping You from Flossing as Much as You Should?
If you find yourself not having enough time to floss, it's time to make adjustments to your schedule so that you have time. Start by thinking about when you typically get ready for bed and push it back a few minutes so you can floss, which should only take roughly two minutes to complete.
If you feel too tired to floss, keep in mind that you don't necessarily have to floss right before bed. It's perfectly fine to floss in the morning or any other time during the day. Flossing doesn't have to be part of a strict schedule, even though many people are able to maintain the habit by making it one.
Forgetting to floss? Setting a reminder on your phone is a great solution because you can easily set the alarm to be reoccurring.
Finally, if flossing is too difficult for you to perform, consider alternative products like disposable floss holders. If you prefer a more environmentally-friendly option, purchase a water flosser or other inter-dental product.
What Goal Have You Set for Yourself?
It's not easy for people to incorporate a brand-new habit into a routine. Start slow by setting a goal that's actually obtainable. Once you meet that goal, push it one step further until you're flossing at least once a day.
For example, flossing just two times a week is better than not flossing at all. Once you've met this goal, bump it up to four times a week, then six, then seven. Pick specific days so you know for sure it's a floss day (you can even combine this approach with setting an alarm that only goes off on these days!)
What is Motivating You to Floss More?
You may have been told by the dentist that failing to floss increases your risk of gum disease. As a result, a whole series of other problems can develop, including chronic bad breath, bleeding in the gums, gum sensitivity and pain, and even tooth loss. Whether it's the risk of losing teeth or bad breath that motivates you, keep in mind that you're working to prevent it by flossing.
Flossing occasionally is still better than not flossing at all, so don't let the fear of not meeting your new year's goal get you down if you're struggling to introduce the habit to your routine!
About Advanced Dental Concepts
Advanced Dental Concepts' highly experienced dentists, Dr. Danny Hayes and Dr. Lauren Hayes, take preventive dentistry very seriously because it's the best way to maintain a healthy smile and avoid the most common conditions that affect the mouth, including tooth decay and gum disease. They are happy to discuss tips to help make flossing easier, whether it's a lesson in technique or recommending oral care products that make the habit more fun and efficient. To schedule an appointment, you can contact them through their website.