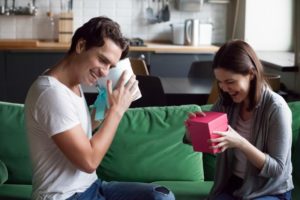 Valentine's Day is just around the corner, and chances are you want to use this holiday as an opportunity to make your special someone smile. However, maybe you want to give them something more unique and less likely to cause cavities than the typical heart-shaped box of chocolates. If that's the case, then you're in luck! Here are ideas for mouth-healthy Valentine's Day dental gifts from your dentist in Portage.
Waterpik
This device releases a steady stream of water that can clean between your teeth. While it shouldn't replace flossing entirely, it's particularly helpful for people who have trouble wrapping floss around their fingers, or people with braces, dental bridges, or dental implants.
Electric Toothbrush
Can you remember the last time you bought a new toothbrush? If not, that's not good; the American Dental Association recommends replacing your toothbrush every three to four months at most. Otherwise, the bristles could get frayed or worn and become unable to clean your teeth as effectively.
Now is the perfect time to get your loved one a new toothbrush. Some studies suggest that electric toothbrushes are more efficient at removing plaque from your teeth than manual ones. They're also easier for people with mobility issues to use. Plus, many of them come with built-in timers to let you know when you've been brushing for long enough. Just remember to change the brush head every three months.
Unique Toothbrush Holders
Maybe you have a kid who isn't all that interested in brushing their teeth. That's where a fun toothbrush holder can come in handy. Storing their toothbrush in a holder that looks like a dinosaur, a shark, a hippo, or their favorite cartoon character can get them excited about cleaning their pearly whites. Just be sure that each person in your household has their own toothbrush holder to minimize the spread of germs.
Fun-Flavored Dental Hygiene Products
If your friend or family member loves jokes or just dislikes the taste of mint, they might enjoy some novelty flavors of toothpaste, dental floss, or mouthwash. You can find all sorts of interesting flavors, like bubble gum, vanilla, or even bacon, at your local pharmacy.
Teeth Whitening
Everyone wants a brighter smile, but over-the-counter teeth whitening products often don't create dazzling enough results. Fortunately, your Portage dentist offers professional teeth whitening treatment in-office or via take-home kits.
With these dentist-approved Valentine's Day gifts, your loved one will enjoy a healthy smile. That's truly the gift that keeps on giving!
About the Practice
At Advanced Dental Concepts, you can count on us for comprehensive dental services and top-tier customer service. We welcome patients of all ages and affordable payment options are available. To accommodate your busy schedule, we offer evening and Saturday appointments. Perhaps you could discuss Valentine's Day dental gifts with our staff during your next cleaning and exam, which you can schedule on our website or by calling (219) 763-6878.