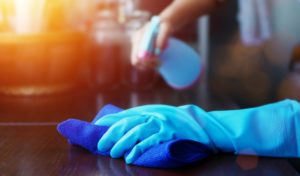 Thanks to their strict sanitation protocols, dental practices have always been some of the cleanest environments in the country. However, maintaining a healthy and completely germ-free dental practice isn't as simple as spraying a store-bought disinfectant around the office, especially during the COVID-19 pandemic. There are a number of important steps your dentist takes in a specific order to thoroughly eliminate any dangerous particles. Here's what your Portage dentist is doing to keep their practice clean and you as safe as possible when coming in for dental care during the coronavirus pandemic.
Cleaning or Replacing PPE Frequently
Personal protective equipment (PPE) is designed to protect the wearers mouth, nose, and eyes from germs. They also prevent the wearer from spreading any infected particles themselves. You've probably seen your dentist wear PPE like masks, gloves, and eyewear at your routine dental checkups before.
During the COVID-19 pandemic, your dental team may be wearing PPE like face shields and disposable, protective coats and hats that you haven't seen before. Disposable items like gloves and coats are discarded and replaced between each patient to control the spread of infected particles. Reusable equipment like face shields and dental instruments are sterilized after every appointment with hospital-strength disinfectants.
Sterilizing Dental Instruments
It takes much more than a quick rinse in the sink to sterilize dental instruments. Some devices like needles and suction tube tips are single use and thrown out directly after coming in contact with a patient. However, reusable tools like dental mirrors, scalers, and handpieces (drills) need to be sterilized with specific methods outlined by the American Dental Association and the Centers for Disease Control and Prevention. This may include high heat, steam under pressure, or a chemical vapor to completely eliminate any traces of lingering particles.
Disinfecting the Environment Thoroughly
To ensure that their patients and staff are as safe as possible while inside the practice, your dentist ensures that the entire office is thoroughly and regularly disinfected. This includes the front desk, reception area, doorknobs, washrooms, light switches, countertops, dental lights, and examination chairs.
To clean these items, they are first washed with soap and water to remove as many particles as possible. Then, a hospital-strength disinfectant is used to eliminate any remaining infected particles. It's essential that these surfaces are cleaned before they're disinfected to ensure that no microorganisms are shielded by various debris.
Your dental team is working tirelessly to prepare a clean and healthy environment long before you arrive for your appointment. If you need to come in for dental care after weeks of quarantine, you can rest assured that you are walking into an exceptionally germ-free practice.
About the Practice
At Advanced Dental Concepts, we believe that nothing is more important than the wellbeing of our patients, staff, and the entire community of Portage, IN. We have always been proud to meet the high standards of sanitation and infection control set forth by the Centers for Disease Control and Prevention. In these unusual times, we continue to prioritize health and safety with extra precautions and sterilization protocols to ensure our practice is as clean as possible throughout your treatment. If you would like to learn more about how we're keeping our practice clean and our patients safe, feel free to contact us via our website or at (219) 763-6878