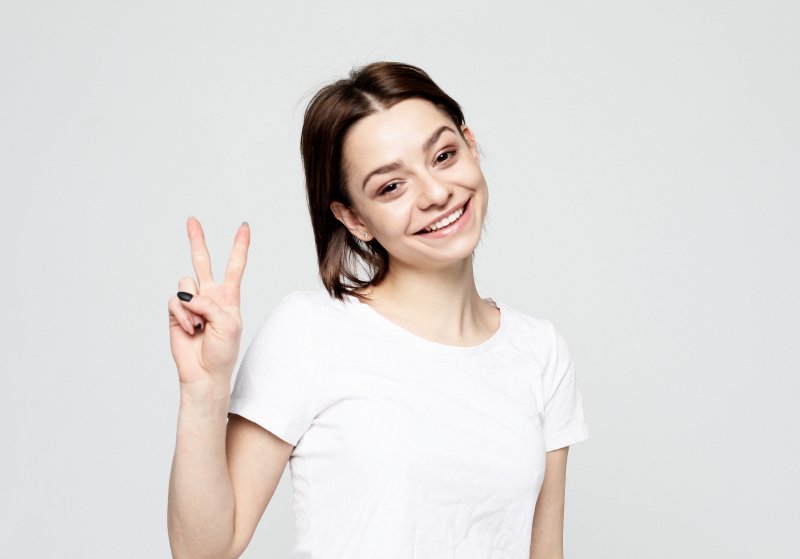 Did you know that the CDC estimates social distancing guidelines have prevented up to 185,000 deaths? With this in mind, shopping malls, banks, grocery stores, and even your dentist in Portage are re-designing their daily operations to make maintaining a 6-foot distance a practical reality. While you and your dental team will inevitably breach this guideline, they are taking extensive measures to practice social distancing in other areas of the office, like opting for contactless greetings. If forgoing a warm handshake or friendly hug has you feeling awkward, try these four greetings!
A Friendly Peace Sign
The peace sign is one of the most recognized symbols around the world. While it has been used for decades, it became a cultural phenomenon in the 1960s and has since become a staple in the fashion industry. Even five decades later, people still use it when greeting someone to say hello and send positive vibes. Turns out, it is also the perfect pandemic-friendly greeting!
The Classic Smile and Wave
Although this classic introduction has been used for ages, it still makes the list of creative greetings because there is nothing as unique as your smile! Plus, your dental team is united by their mission to provide you with a healthy, beautiful grin. So, when you combine it with a friendly wave, you've got yourself an ideal greeting at your dentist's office.
The Fun "Live Long and Prosper" Salute
If you are looking for a greeting that shows off your personality while simultaneously keeping you safe, then this is the one for you! When the Live Long and Prosper salute was introduced back in the 1960s, it quickly became a staple of the much-loved Star Trek franchise. Since it can be completed without breaching the 6-foot distance guideline, it is the perfect social distancing-friendly greeting!
The Celebratory Air High-Five
Although regular high fives spread a fraction of the germs that traditional handshakes do, experts are advising people against them in light of the current pandemic. Fortunately, you can opt for an air high-five during your visit! That way, you can celebrate milestones with your dentist (like another cavity-free visit!) without compromising your safety.
Navigating the "new normal" can feel awkward, especially when greeting someone. Fortunately, you can opt for one of the above social distancing-friendly hellos to show your enthusiasm while also keeping your distance!
About the Practice
Whether it is a routine dental checkup or a complex restorative procedure, the team at Advanced Dental Concepts is united by their mission to deliver patient-focused, world-class care. With their talented staff at their side, Dr. Danny Hayes and Dr. Lauren Hansen use their impressive clinical skill and extensive experience to provide an array of comprehensive services for each member of your family. If you would like information on additional ways they are practicing dental safety during COVID-19, please visit their website or give them a call at 219-763-6878.